Written by Mark Dennehy
Thursday, 21 October 2010 15:01
It's taken a while to organise the next round of beginner's induction courses for far too many reasons, but we now have dates and details for those interested.

First of all, the dates. We have two air rifle courses and one air pistol course coming up in November and December, each will run over two consecutive sundays:

Air Rifle Beginners Course #1 : Sunday November 7 and Sunday November 14
Air Rifle Beginners Course #2 : Sunday November 21 and Sunday November 28
Air Pistol Beginners Course #1 : Sunday December 5 and Sunday December 12

As you can tell from comparing these with beginners courses we've run in the past, we've changed the format for the course slightly, running them over two days rather than over six weeks. Apart from that, the syllabus will remain the same. There will be presentations on technical and safety aspects of target shooting with airguns and range time for practical work, both with paper targets and with our new electronic targets. The courses will be given by Matt and Geoff, our internationally-accredited ISSF coaches, with assistance from Joanne and Mark as Range Officers and assistant coaches where needed.

Some basic details on the courses:

* They run from 11am until 5pm with breaks for lunch and coffee, on two consecutive sundays.
* It costs €100 per person for the course.
* It's given by Geoff and Matt, who are ISSF-certified coaches.
* You don't need to have any equipment, the club provides everything you'll need for the course.
* At the end of the course there is a basic exam on what you've learnt.
* Once you've passed the course:
o You're signed off on by the club as being safe to shoot air rifles (or air pistols for the air pistol course)
o You're formally invited to join the club (membership costs €150 per year and includes your insurance)

For those who are also interested in joining the club, this is currently our mandatory route into the club for all beginners for several reasons:
1. It means we know you're safe to shoot on the range
2. It means you know you're safe when learning to shoot on the range
3. It means you get to know what the sport is like and don't have to spend very much money to find out
4. It means you get trained in a structured way from the first day by a qualified coach so you don't learn any bad habits
5. It means you get to know what our club ethos and people are like before signing up

As the courses are now being run over two days rather than six, we are keeping the number of places low to ensure that everyone has their own firing point on the range; so there are only six places in each course. Since we have had almost thirty people asking us for course details in the last few months, This e-mail address is being protected from spambots. You need JavaScript enabled to view it should be done quickly as the next courses we run will not happen until next year at the earliest.

If you have any questions, This e-mail address is being protected from spambots. You need JavaScript enabled to view it .

Last Updated on Thursday, 21 October 2010 15:37
Read 0 Comments... >>
Written by Mark Dennehy
Friday, 08 October 2010 17:51
We've been a bit quiet about this, but for the last few weeks, WTSC has been sourcing two new Megalink electronic targets for the range, to help train for competitions on ranges which use them, as well as to allow us to do some forms of training that are a bit more difficult at the moment.
They were shipped from Norway earlier this month and arrived in Dublin early this week, and as soon as customs duties and VAT were paid, we took delivery of them (on Wednesday) and last night saw myself, Matt and Geoff working away setting them up: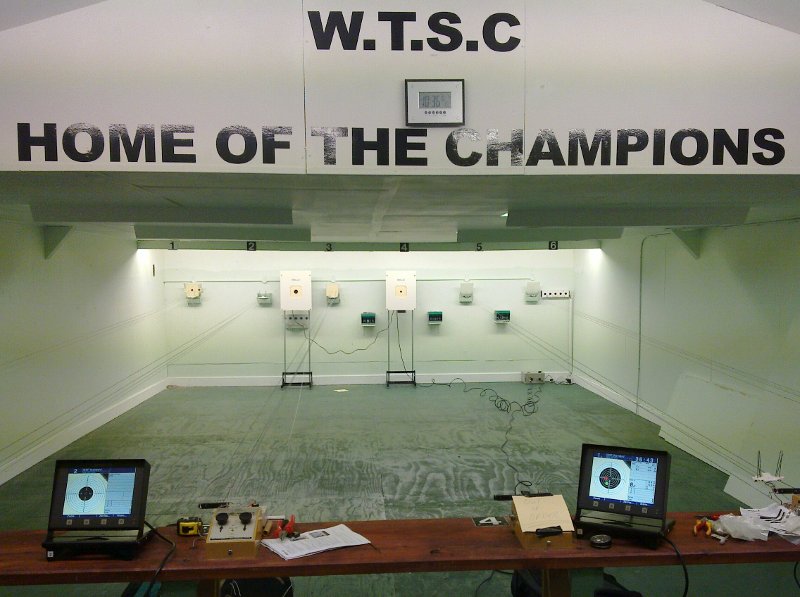 You don't see too many photos of the setup process, [url=http://10point9.ie/2010/10/08/wtsc-gets-megalink-targets/]so I took photos all the way through from unpacking to the final setup[/url].
Read 0 Comments... >>
Written by Mark Dennehy
Wednesday, 16 June 2010 19:47
Back in 2007, WTSC shooter Richard Stapleton Jr won the 50m prone rifle national championships out in the Midlands and it was covered by RTE for their OB Sports program. The link on the RTE website to this was acting a bit funny, so here are the relevant four minutes of the show:
Last Updated on Wednesday, 16 June 2010 19:47
Read 0 Comments... >>
Written by Geoff Cooney
Sunday, 18 April 2010 19:06
Offical results are not yet to hand, but congratulations to Ray Kane, John Lancaster and Sean Baldwin, for winning the Gold, Silver and Bronze medals respectively.  Well done Guys!
Read 0 Comments... >>
Written by Geoff Cooney
Sunday, 18 April 2010 17:41
Hi Everybody,
We are hosting an air rifle event next Sunday in Wilkinstown.  There will be 2 details one at 11.00am and the other at 1.00pm.  Extra details can be arranged depending on numbers.  The entry fee will be €10.00 per person and proceeds are being set aside to a fund to but 6 x megalink units for the range.  (We need to raise around €20,000)
Please contact me at This e-mail address is being protected from spambots. You need JavaScript enabled to view it or 046 9054167 to book a slot.
Some of our members have put a lot of work into painting and cleaning up the range so come on down and enjoy a great match.
Geoff
Read 0 Comments... >>
<< Start < Prev 1 2

3

4 5 6 7 8 9 10 Next > End >>


Page 3 of 40